Click here to view original web page at www.citypeopleonline.com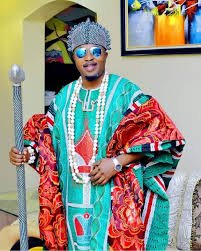 When He Stormed City People Office In LAGOS
Tuesday, 24th April, 2018, was a special day at City People Magazine Head-office at Gbagada, Lagos, as the Oluwo of Iwo, His Imperial Majesty, Oba Abdulrasheed Akanbi, stormed City People to deliver a Birthday Lecture in honour of the Publisher of City People, Seye Kehinde, who turned 53. Oluwo delivered his lecture tagged: "The Role Of Iwoland And The Oluwo In History".
"I give thanks to God for today and for giving me time to be here. Lets make our discussion interactive . Sometimes, people ask me questions like: why do you like to dance? Why does a king like to dance? And I tell them I am not a king, only God is the King and for God to choose me out of millions! I am not the most perfect person in my town or in Nigeria. I am not the shortest or tallest. I am not the most educated. I am not the richest; I am not rich, but ever since I became a king I have become rich because being rich is not about material things but I am rich spiritually. God chose me to come and represent Him and for one to represent God, "se temi ko wa tope". (I should be thankful).
If I dance everyday, who cares? I won't care what you say. I dance because I am still young.. The king that can't dance in my own kind of way are older kings; only those who are old dance gently. Young king can still dance to Small Doctors songs.
"The tilte of the lecture that was given to me is about Iwoland. I will just talk briefly on Iwoland because we are all Nigerian; I would not only be talking on Iwoland, but I want everyone to ask me question's because you might have seen me on TV and you are still confused because many people used to throw insult at me now, but I am used to that; I am a tree with good fruits and only good fruits induce people to throw stones at just to get its good fruits. Nobody can do that with Dongoyaro tree.
And who amongs us can tell me the meaning of 'Ogun' (God of Iron). But I will tell you, there was a man called Oshimole. He was a blacksmith and he was very talented as a blacksmith. He was able to mould knives and cutlasses with his talent. There was nothing to fight war as at that time. And there were no kings at that time. What people always did at that time was to fight around, formed gang and fight.
"When Oshimole came, he started moulding irons into cutlasses and he started fighting war with cutlasses and he was conquering. People called him "olo mi nile feje we" and when he was fighting with cutlasses and cutting people's heads blood would gush out. They have never seen that kind of innovation before. And that was why they called him "olomi nile feje we, a la so nile fi mo ki mo bo' ra" because when he fought then, he used to have all sort of things on his body like gourds, and palm front. He did that so that people would not know his source of power.
"After a while, people found out the bane of the man; people found out that "ko si ogun (charm) kan fun ogun (god of iron) ju irin lo" (the only way to win a war is through iron). That is why they said "ko si kan mi to je ogbon oshimole ju irin lo", irin ni laa'ka ye Oshimole.
The father of Yoruba is called Oduduwa, his real name is eni to dudu wa. We are saying this because it's not advisable to be telling our children 'lies'. It won't work!
"Nothing stops us from doing research futher. For example, we export Garri to London, U.S. But have we asked ourselves what we can use Garri for, other than starch?. White men brought cake. when are we going to be making food the white people will accept and be eating on a daily basis? When are we going to be making our own clothes? I have snapped out of that. I now make my dress. I have made Telu Jeans with my own innovative. When are we going to begin to think out of the box? When are we going to do what white men do? When are we going to move away from our conservative ways? If our ancestors still find out that we still believe in the same thing they believed in, you know there's problem. It is not an insult to say we must be wiser, better and greater than our fore fathers. I don't want to be wiser than my children, if I am wiser than my children, then the day I die wisdom has left this world and stupidity is left. I don't ask for the wisdom of Solomon. I will never do that because the wisdom of Solomon was limited to his own time.
Solomon never saw an airplane, microphone, computer. Solomon was a wise man, a great king for that time. I must ask for a wisdom that is bigger than Solomon's.
Before I became a king, nobody wanted to move closer to any king for blessing. The kingship position was used to scare people. They will that Oba will curse you ooo. They prefer to go to pastors and Imam for prayers.
People say I am against them worshipping Ogun. My question now is that, should we still be promoting something that has not improved us or should we still be doing tribal mark? The tribal mark in the first place is an abuse process because the child didn't ask for it. Why don't you let the child grow up and ask him or her? This is part of what I am saying that today, Ogun will bow for the new technologies that are in place but we are not saying we are debasing our tradition; we just need to upgrade and update this static culture. The culture that is static will go into extinction.
How many people wear "agbada" here? This is the reason I wear 'agbada'; it's an exercise for me because when you carry 'agbada' around, you will sweat. It is a heavy fabric.
So, I mean my word when I say I don't fear anybody, but God. Any king who is subjected to worshipping idols, or secret cult, the day he becomes a king, you don't subject yourself to that longer, you only have business with God. I am a deputy to Almighty God, so I can't be to any idol. Idols don't move. I have power over all deities. I can even starve them (deities). I have authorities over deities."
"This is my mindset. This is no witchcraft! Witchcraft is a negative state of mind. Witchcraft is only in Africa, Nigeria and other poor places because it's a negative state of mind. If they tell you there is a witch in your family and Folorunso Alakija is in your family, will you go and meet her? The rich person will never be witch in the family. Only the poor is awitch. The witch is the person you didn't take care. How would she not eat you!"
Why did he decide to name himself Emir recently? Does it mean he doesn't believe in rituals at all?
"The ritual I believe in is modern day ritual that adds to the lives of people. One of the sacrifices (rituals) I made when I became the king. We used to take a road to Osogbo; we have a road that takes two hours to get to Osogbo, and there is another old road that only takes 35 minutes but it has been abandoned for about 10 years. So, I stepped out of my palace and I started fixing it. People thought I was not going to fix it, but I fixed the road and that is the kind of sacrifice I believe in. I don't believe in ritual!
I feed people 3 times a week, Mondays, Wednesdays and Fridays and that is the sacrifice I am talking about. People come to eat in the palace, in their thousands.
On the second question which is on Emir: It's not possible to change who I am because I know who I am and I am going to stay an Oba for life. And I also know that when you are famous, you must pay a price. Everyday, news break and there is another one today where they said the palace is the house of God. I said, I am not the king, only God is the king, but what about the palace of the king? The day an Oba is installed, he seizes to be a member of any secret cult. If we are saying that our children should not join secret cult, that it is criminal, what about you the leaders who are in secret cult? How can a criminal control criminals. Some people also claimed that they have a charm to disappear, if you have this, why can't you help some members of your family who want to travel to the US.
What can Kabiyesi do in his own capacity to proffer solution to this current problem we have in Nigeria?
"In 2015, nobody knew me, nobody knew much about Iwo, even if you have heard, it is not like it is in the news now. I have an idea, with my consistency and being persistent with what I am doing but I have become one of the leaders in the country already. I am leading by example.
And this is why we have been passing information to the people, we want you to go into politics! Youths should not be scared to go into politics because if you leave politics to touts, and if they are your lawmakers and they make road side law for you, you shouldn't complain. I am a leader now and I am using my position to mobilise people to come out from their comfort zone.
There is a popular saying that "Iwo o ni ilekun, nwon ko ni kokoro" (Iwoland had no doors or padlocks and there is one Late Ayinde Barrister song that says Islam has something to do with Iwo people and he also likened Iwo to Ilorin, who are deep Muslims. Please explain this?
"Yes, Islam is big deal in Iwo These people came all the way from Mali and they were looking for a place where there was a kingdom; they were looking for an established monarch system. We got our own Islam in 1665, which means, in the South-West, Iwo was the first place that Islam came to. Our history predated the Sokoto Caliphate. Sokoto Caliphate was in the 19th century.
What they were looking for when they were coming, was an established monarchy that will tell their people to accept Islam. But during that period, there was no monarch. Until the North have the monarchy system, through Usman Dan Fodio and they established Islam. That is why you see Sokoto Caliphate is the one with Sultan, while and others have Emirs. There was no Sultan there before that time and they moved, they moved down to Oyo, but when they started war there, they moved down to Iwo because Iwo was the next town that had an Oba then. There were not many kings that time. During that time, there were only paramount rulers and they were never upgraded. Iwo started with king.
It has always been Oluwo from the outset. The crown I wear has been over a thousand years. The crowns in Yorubaland then were not up to 8, unless those who were from the Republic of Benin.
The king (Iwo) was the one who brought Islam to Iwo and since that time we have changed our style of installing kings from the crowns to turbans. We have been turbaning since then. We have been using turban since the 17th century for the installation of king in Iwo. It is normal for me that every Friday I wear turban. I don't know why people have problems with that.
I am leading a cultural revolution soon. So, I am going to install an Ibo man as Asiwaju and I will wear Ibo clothes, and I am still going to call myself Igwe.. So, go and talk about it.
And why do they say"Iwo ko ni'lekun, ko ni kokoro" (Iwo town does not have doors or padlocks), This is because in the past, our town was very peaceful. It was the only town that had never been ravaged by war and we have never moved from where we are. And Iwo is called the Home of Parrot because it is one of the creatures that doesn't lie. We used to have powerful people in Iwo. We don't worry to lock our doors because we believe nobody can come in to steal our things"
Why does he allow his queen to wear a crown?
"Yes, queens must wear crowns. I will tell you this today. Oduduwa did crown his queen then Olokun. Ooni of Ife can't dispute that fact. So, I did the same thing Oduduwa did because where Oduduwa came from, all their queens there wore crowns. Imagine my queen without crown and she is in a school and someone walks past her to toast my queen because she is not wearing a crown to show she is a queen. This is an insult to me and the throne. So, a queen must wear a crown. A queen without a crown is not a queen; nobody regards her as a queen. When the debate of Oloori wearing crown was hot, many professors from Obafemi Awolowo University brought out raw facts; archeological facts that shows that Ooni and his wife wearing crowns, even the crown of his wife was more beautiful. So, why should we stop women from wearing crown?
– Isaac Abimbade