Click here to view original web page at www.citypeopleonline.com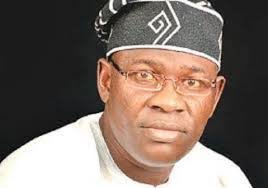 Last week Friday 27th April, 2018, people of Oyo State and the society generally woke up to hear the sad news of the death of the state's Assembly Speaker, Rt. Hon. Michael Adeyemo. The late Speaker was said to have died of heart attack in the early hour of that Friday. He died at age 47. To say Adeyemo's death has left many devastated since the news broke is an understatement; his death is a colossal loss not to his family members but the state, Oyo APC, people of Lanlate in the Ibarapa East Local Government where he comes from and particularly the executive governor of the state, Senator Abiola Ajimobi. Adeyemo, we heard, was a very loyal and close ally of the governor. Apart from that, he was a well-loved man who served the state diligently in his lifetime as Speaker and a peace-loving man. No wonder the state government declared 3-day mourning in his honour. The government had directed for the mourning to commence from Monday, April 30 – Wednesday, May 2, 2018. And that flags be flown at half mast during the period. Since that last week Friday, condolences have been coming in from everywhere and that is also a testimony to the kind of person Adeyemo was in his lifetime. Gov. Ajimobi, who couldn't hold back the shock of the sudden death of Adeyemo has penned down a strong, heartfelt tribute. In his message, Ajimobi described the death as a tragic loss for him and the people of the state."I received the news of the untimely passage of my brother, friend and dependable political ally, with grief and utter shock, this morning (Friday).
"He was a fine gentleman and bridge builder, who was committed to the development and progress of the state. His death has left a gaping void that will be difficult to fill". Though Adeyemo is dead but his great mark in the political position he held till breath his last will linger on for a long time to come in the history of Oyo State. Apart from the fact that he was the Speaker of the Oyo State House of Assembly, many people never knew much about Adeyemo due to his gentle nature. City People's Correspondent, Dare Adeniran, however put together 10 shocking things many people probably didn't know about late Rt. Hon. Michael Adesina Olusegun Adeyemo.
(1) Not everybody knew that Adeyemo was born Adeyemo at Alaarun compound, Lanlate, Ibarapa East Local Government Area of Oyo State and that he was the first child of the family. He was born on November 22, 1972.
(2) Many didn't know that despite being from Lanlate in Ibarapa East Local Government, Adeyemo spent his early life in Ibadan. He attended IMG, Oke Ado, Ibadan for his primary school education and Celestial Church High School, Oke Ado, Ibadan for his secondary school education.
(3) Not many also know that Adeyemo had two University first degrees at University of Port Harcourt major in Education Management with second class upper and the prestigious University of Ibadan (UI) major in Law in 2004.
(4) Late Rt. Honourable Adeyemo's joined politics in 2007 and since then it has been no stopping for him till he breathed his last breath. He was the Deputy Chief Whip of the House and a member of committees of fund allocation, works and transport, Agriculture, trade and investment, appropriation and public finance in the just concluded 7th Assembly.
(5) He was a man with golden heart, who beloved strongly in community building and he was a highly consistent person. facilitated the autonomy of two campuses of tertiary institutions in his constituency- The Polytechnic Ibadan, Adeseun Ogundoyin Campus, Eruwa and Emmanuel Alayande College of Education, Lanlate through His Excellency, Senator Abiola Ajimobi.
(6) Before he became Speaker of Oyo House of Assembly, he was working with Olujinmi and Akeredolu law firm as a Lawyer and his nickname is AMA and fondly called by friends and political admirers.
(7) He was a member of the Nigerian Bar Association (NBA) and International Bar Association (IBA), he served in the executive committee as an Auditor and Assistant Secretary of NBA, Ibadan branch.
(8) He was one of the closest people to the first family in the state. The Ajimobis related with him and treated him like a member of their family.
(9) Late Adeyemo was able to set a record in his political career. He was the very first member of the House of Assembly from his constituency, Ibarapa East to be re-elected into the House.
(10) Late Adeyemo lost his wife during his first term in the state's House of Assembly on his birthday on November 22, 2013.