Click here to view original web page at www.citypeopleonline.com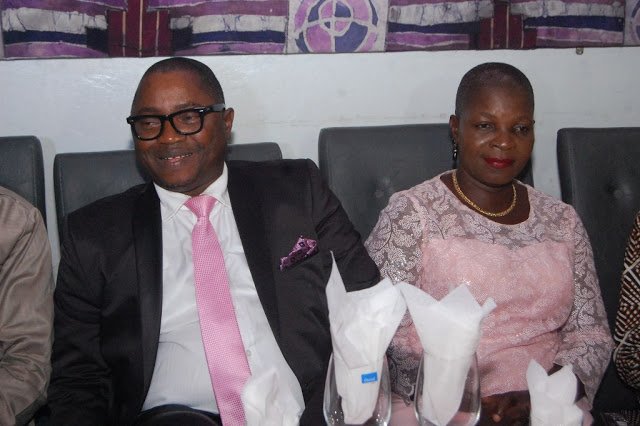 Family members, friends and associates of Ambrose Somide recently gathered to celebrate him on his recent double appointment. First, was by the Federal Government's as a member of the Technical Committee On Indigenous Languages in Nigeria, while his appointment as the Managing Director of Radio Services/DAAR Communications Limited by the Firm's Chairman, Chief Raymond Dokpesi, also came in quick succession.
The event, which took place on the 20th of April, 2018, at the Eagles Park Hotel Hall, Ikeja, Lagos had in attendance journalists and very important personalities in the country.
The event kicked off at exactly 7pm with a popular radio presenter, Yomi Mate, also known as Ifankaleluya, who reeled out Ambrose Somide's panegyric after which soul singer, Demola Olota, serenaded guests with wonderful classic collections as DJ Ortega dished out quality music from his turn table. Another broadcaster, Yemi Sonde, who came to felicitate with Ambrose Somide was full praises for him on his double appointment.
"Somide is somebody I don't joke with, because of his antecedents and achievements in the industry. He is somebody I look up to in many areas. For instance, when I served as the Fiban president and was hoping to cite a 2-storey building in Ibadan, it was him, who drew the plan and also assisted me with 50,000 Naira''. He said.
Ambrose Broadcasting partner, Bashiru Adisa, was also full of praises, commendation and admiration for the current Raypower Managing Director. He posited that since he had been working with him for over 24 years, he had no cause to complain or regret.
"Ambrose is very selfless and very hardworking, in many years that we have worked together, I haven't had any reason to complain or regret'', he said
Ambrose Somide's broadcasting career was classed into 3 stages: The FRCN ,OGBC and Raypower days. He joined the services of Raypower in 1994, when the station was established as the first privately owned radio station in the country.
Madam Yewande Iwuoha, the General Manager of Raypower, was also not left out of those who praised him as she gave complimentary remarks about the current Managing Director of her station. She said that it had been a wonderful experience working with him, saying that she is sure Ambrose would deliver as the MD of the Radio Services.
General Manager of Africa Independent Television (AIT) Mrs. Jire Ikuforiji, was given the singular honour to read the citation of Ambrose Somide and she did it effortlessly.
Ambrose Somide is a graduate of Urban & Regional Planning from Obafemi Awolowo University, Ile-Ife. He began his broadcasting career in 1983 when he joined the services of FRCN, Ogun State branch. He joined Raypower in 1994 as a pioneer member of staff. He rose to the position of General Manager in 2000. He was appointed the Managing Director of Raypower/DAAR communications on the 17th of March, when the former MD, Kenny Ogungbe, resigned to concentrate fully on his radio station.
FEMI FABUNMI 08155134187